Please note that this is a sponsored post. As always, all opinions are 100% my own.
I loved being pregnant.  Some people look at me rather odd when that comes out of my mouth, wondering how I could profess that – and I felt that way for both pregnancies!  With both boys, I was tired and a smidge nauseous during the first trimester.  I went to bed a bit earlier than pre-pregnancy and learned to always have small snacks on hand to quell the nausea.  Trimesters two and three were AMAZING.  
Both birthing processes were great as well.  I had a cesarian section with N because he was comfortably breech, literally sitting upright on my belly with his knees bent and feet flat on the floor of my pelvis.  After having a c-section for N, one followed for G.  I remember each day as if it was yesterday.  Seeing the boys for the first time took my breath away and filled my heart with such warmth and an amount of love I didn't think could ever exist.   I now have two amazing, healthy teenage boys but look back on the initial days of their lives with such love.  
My deliveries took place in a local hospital.  The walls and décor were neutral, and I swaddled my little men with the white swaddle blankets with the blue and pink stripes (and the one with the footprints). I had no complaints but would've loved to have the experience in a more festive atmosphere!
If I was pregnant today (which I am NOT Mom, don't get excited!), I would love to have the opportunity to give birth at Good Samaritan Medical Center in West Palm Beach.     
Good Samaritan x Lilly Pulitzer
Did you know that Good Samaritan Medical Center recently partnered with famed resort wear brand, Lilly Pulitzer, in designing their birthing suites and family waiting room?  What better way to exude the perfect Palm Beach birthing experience than with the iconic Lilly prints and colors surrounding the families!
Bright-colored hand-painted murals of the ocean, floral, jungle scenes adorn the walls of these fully renovated rooms.  All bedding and window coverings are outfitted in Lilly fabric, with coordinating décor.  
Even the halls and waiting rooms are decked out in perfect Lilly Pulitzer style with coordinating furnishings, décor, and artwork.  Moms and babies are gifted with a stunning designer accessory kit including a Lilly Pulitzer robe, swaddle set, tote bag, and more!
Waterfront views and a VIP food and beverage menu top off this one-of-a-kind birthing experience!
Labor and Delivery Services
The offered labor and delivery services are extensive, including:
Large private suites
Welcome amenity bag
Birthing and Peanut Balls
Amenities for the newborn
Flexible visiting hours with a private waiting room
Celebration breakfast for two (how sweet is this?!)
Just in Case!
Good Samaritan has been known throughout the years for their attention to detail and care of each patient that walks through their doors.  Although we don't necessarily like to think about it, certain situations may arise that worry new mothers.  Nothing to fear, though!
Specialized nurses are on staff 24 hours a day to tend to any worries.  The Level II neonatal intensive care unit, 24-hour board-certified anesthesiologist and neonatologist, and board-certified lactation consultant are available to make each birthing experience much more at ease.  I love that the partner or support person can stay with the new mother throughout the course of the hospital stay.
Proper Preparation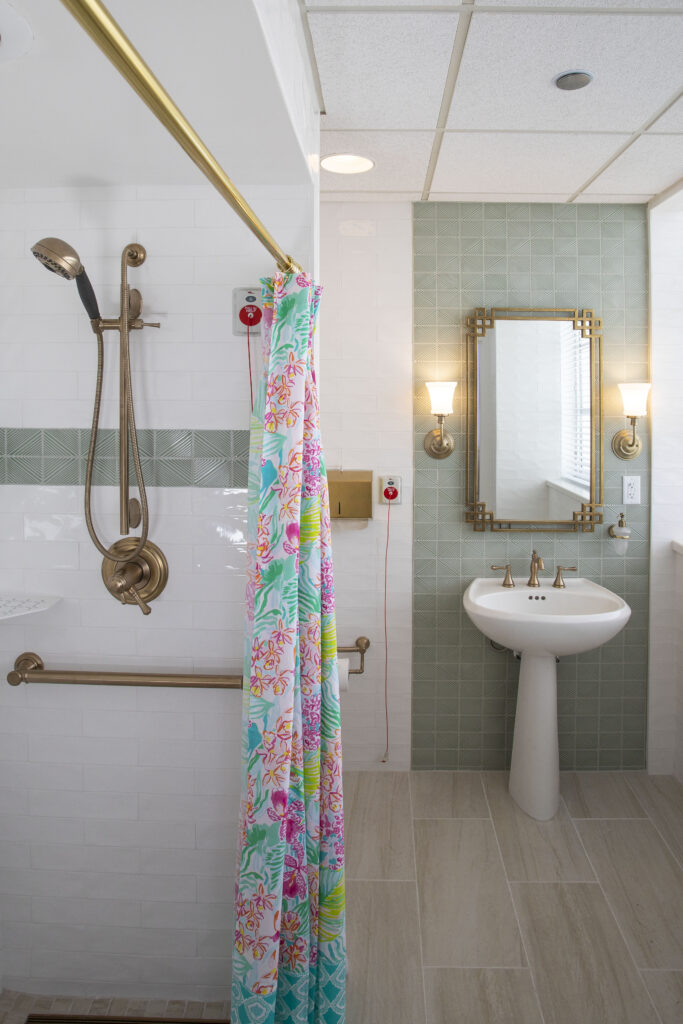 When you are in the planning stages, you can pre-register in a variety of ways.  Simply call 561-650-6255 for your options.
When you're ready to meet your new family member, you just need to call your OB-GYN or midwife to give them the heads up and head on over to Good Sam!  
You'll want to capture this momentous time on film – just remember that still photos (not video) are the only type allowed. 
I am sure you'll have a flood of calls and visitors, congratulating you.  Check with Good Samaritan for the current visiting hours and be sure to tell friends and family to call before visiting!
If you or someone you know is expecting a baby, I highly recommend you head over to Good Samaritan to tour their stunning Lilly Pulitzer birthing suites!  Simply call 877-725-0444 to schedule a personal tour.