I don't think I could've said "Sure!" fast enough when Karen, Director of PR for the PGA National Resort and Spa, asked if Heather and I would be up for a Girl's Getaway.  October, also known as SPAtober, is Spa and Wellness Month – no better time to check out one of the top spas in the area, right?!
SPAAAAAAAAA
Heather and I have been super busy (no complaints on our end – we're loving every minute of it) and couldn't have asked for a better two-day getaway to relax, reconnect, and recharge.  Our morning began at the spa.  We were given a tour and then escorted to the women's lounge to change into our spa robes.
Heather and I tried out the sauna and steam room before our first service, as it was recommended to do so in order to relax our muscles and open our pores.  After steaming ourselves for a few minutes, we headed over to the lounge area to wait for our names to be called.
I opted for the Cranial-Sacral Therapy.  It sounded like the perfect massage for me, considering my chronic back pain.  My therapist, Mary, came to get me from the lounge and immediately I felt comfortable with her.  The Cranial-Sacral therapy isn't like a traditional massage.  It's not strong hands-on, no deep tissue, nothing like that.   Mary explained each step as she was performing the therapy.  By pinpointing, and gently massaging/pulsating on key areas to get the old blood from the area out and bring in new blood, Mary was revitalizing my muscles.  She was so informative, and I could tell that she loves what she does by the way she explained everything.  Mary has been with the PGA National Resort and Spa for 25 years – that is a true testament to the establishment itself.
I didn't want to move when my therapy was over – partly because I was relaxed and partly because I genuinely enjoyed the time with Mary.  She taught me some things that I can do at home should I need to release some pressure on my back, as well as how to properly ice my back.
RELAXATION FOLLOWED BY RELAXATION
A spa lunch at our poolside cabana was next on the agenda.  I was like a kid in a candy shop.  I brought about a dozen magazines that have been sitting in my house, yearning for me to read them.  I was ready to relax!  Heather and I caught each other up on what's going on with our families and our work, drank some rose Prosecco, and really enjoyed doing a whole lot of NOTHING!
The two outdoor mineral pools were calling my name, but I couldn't help just lounging and enjoying the atmosphere.  For lunch, I ordered from the Waters of the World Cafe.  I'm all about hummus so I ordered the Mezza Platter, followed by the turkey wrap (minus the wrap).
Treatment number two for me was a deep cleansing marine mask facial.  I honestly think that facials, when done well, can be even more relaxing than massages!  My esthetician was funny in that when it came time for the extractions, she politely stated, "This is not the fun part, but it has to be done."  Since I have been getting facials since I was in my early 20's, I completely understood what she meant.  She was thorough and my face felt super clean.  Relaxed yet again, I changed back into my bathing suit and headed back to the cabana.  I mean, how many times can you say you had a cabana at the spa?!
We relaxed for another hour or so and then headed back to check into our rooms.
OH WHAT A ROOM!
I was super excited to have a bed to myself and to not be woken in the morning by two little people.  The room was nicely appointed with two bathroom vanities, a super comfy king-size bed, flat screen TV, nice sized desk should I need to work (not that I was planning on it), and what I have to say was the most generous amount of drawer space in a hotel I have ever seen.  I know that may sound weird, but I am all about unpacking as soon as I get to the room, and like to have ample drawers for my belongings.  Also, I usually travel with the kiddos so we need lots of storage.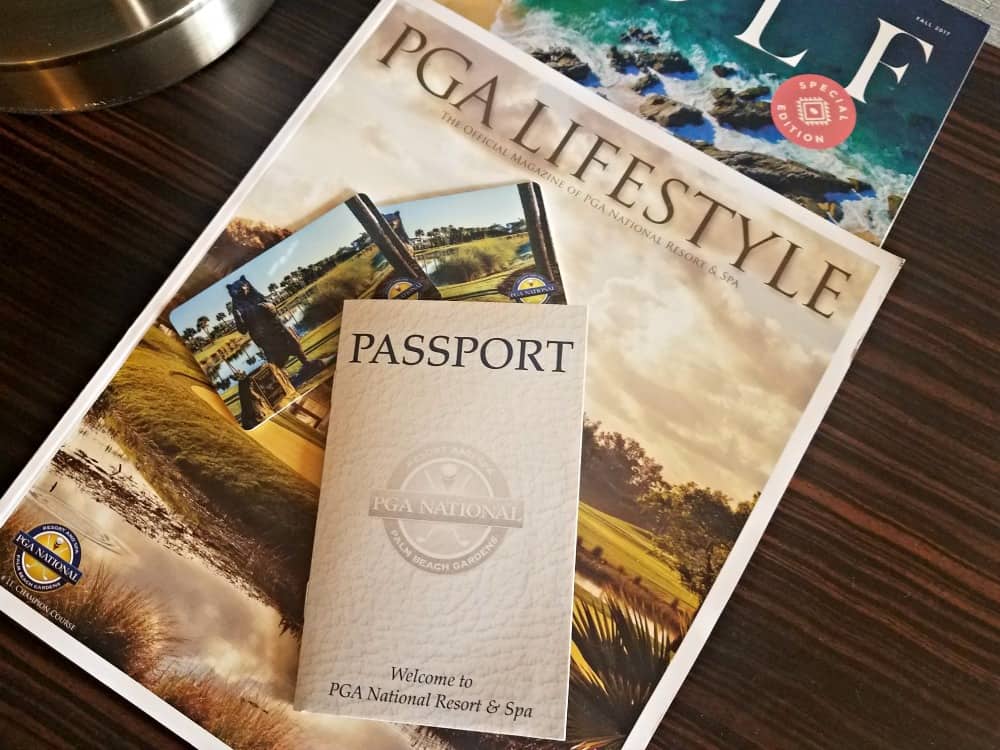 The view from my room was spectacular as well!
That night, instead of going out for dinner, Heather and I opted to take this time to brainstorm for our business so we ordered in room service.  I can't tell you how much work we got accomplished – no distractions, just us, our computers, Prosecco, chocolate-covered strawberries (thank you Karen!), and dinner.  We were on fire!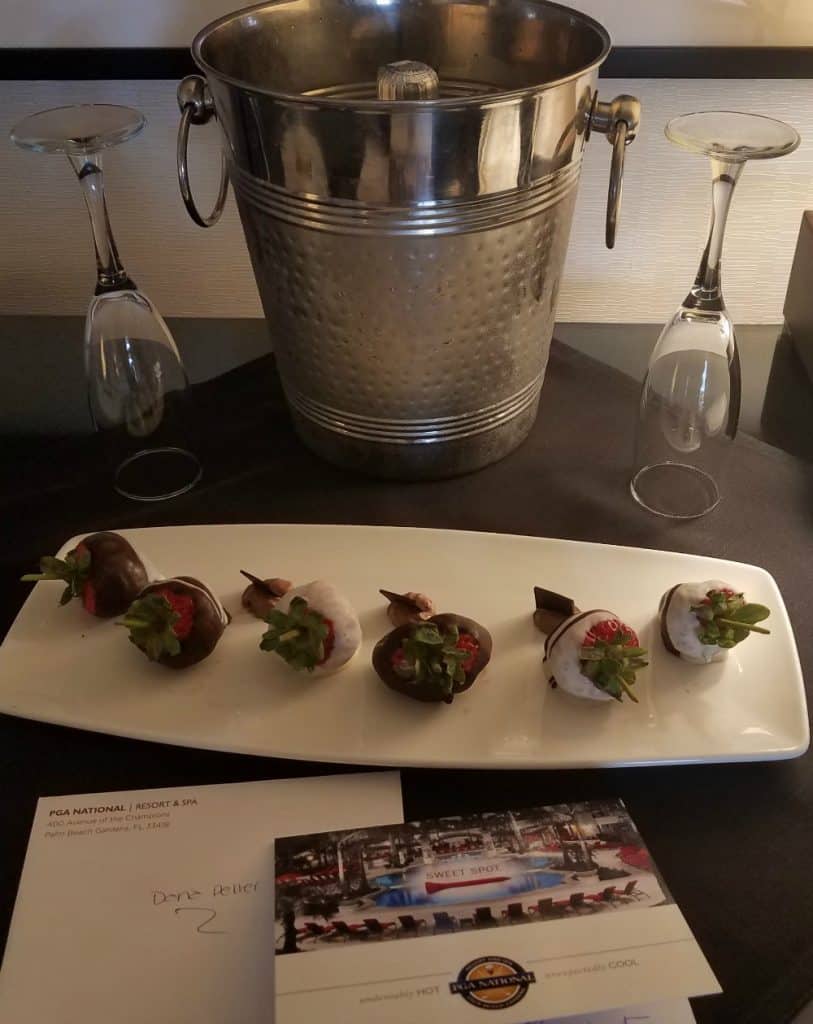 YOGA, LUNCH AND RELAXATION!
Day two was filled with yoga, answering emails and then lunch poolside at the Waves Cafe.
What a beautiful spot to enjoy lunch!  We ordered edamame, fish tacos and a turkey burger with sweet potato tots!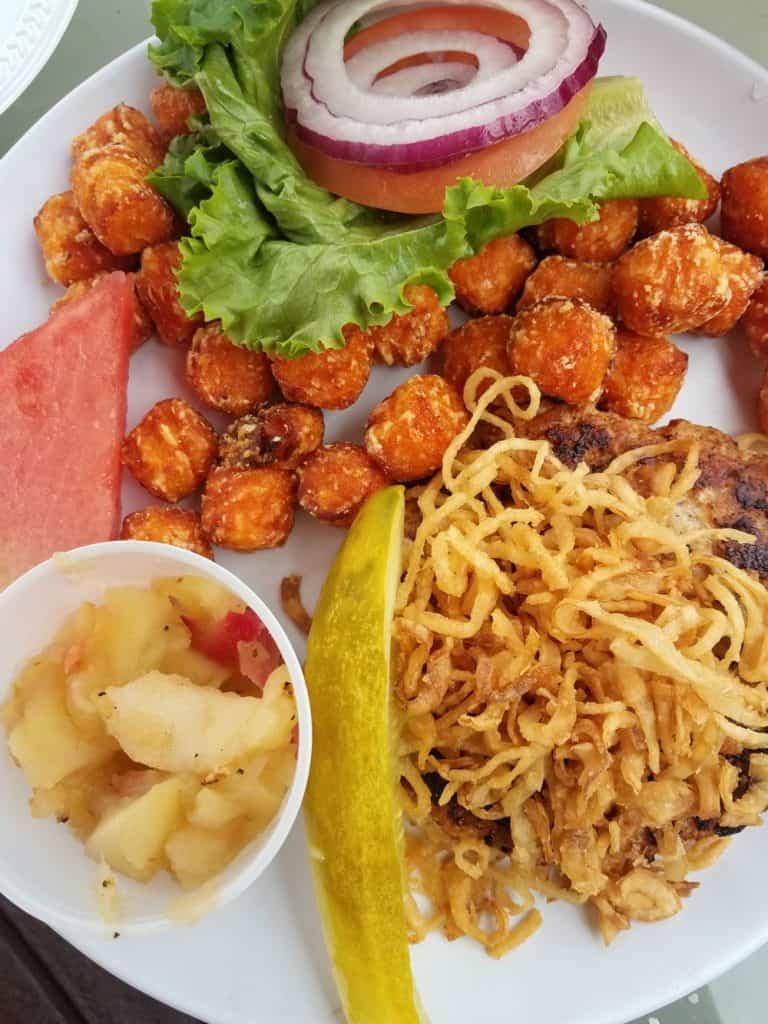 After filling our bellies, we wanted to make the best of the few hours we had left of our Girls Getaway.  We relaxed on our lounges at a resort cabana, reminiscing about the amazing 48 hours we had – that we were so appreciative to have had that time to recharge and hang out.  This cabana was stocked – a huge wrap-around couch, fridge, flat screen TV, ceiling fan…I didn't want to leave!
I HEART PGA NATIONAL RESORT & SPA
When I told my friends that I was going to PGA National Resort and Spa, there was a unanimous response of "That's my favorite spa", followed by "You are so lucky".  I'm not exaggerating.  I can now see why.  October is Spa and Wellness Month and I highly recommend taking advantage of their Tickled Pink Menu, specially curated for this short time!  I especially love that the spa will donate $5 to the American Cancer Society for every "Tickled Pink' treatment booked.  (Call 561.627.3111 to make your appointment – the Tickled Pink menu isn't available on Saturdays, but if you need a weekend day call NOW and get that Sunday appointment!!)