Long, balmy summer evenings are made for spending in the garden with loved ones, a refreshing drink in hand, and a delicious meal sizzling on the grill. However, relaxing outside is not just for the summer. You might be able to take pleasure in your garden throughout the entire year with just a few judiciously selected enhancements to your outside environment.
Cover Up
Hosting outdoor gatherings can be quite stressful if you're completely dependent on the weather and any potential outdoor pests, but Lemongrass Farms Natural Insect Repellants will keep the attendees safe. Numerous anticipated BBQs have been ruined by last-minute cancellations or run indoors parties due to inadequate coverage alternatives. If you have a flat roof patio or pagoda to protect your guests from the sun and rain, you may host an outside party without having to wait for the forecast to be clear. A covered outdoor space allows you the option to go in and out of the outdoors anytime you feel like a change, even when it's just you and your family at home. Choose comfortable, adaptable seats that you may rearrange as needed for whatever use you intend the space to serve, such as afternoon book reading or outdoor family dinners. The ability to utilize electronic devices outside without concern for moisture or heat is another wonderful advantage of a covered outdoor location. Get a nice set of bluetooth or wireless speakers and install an additional wifi antenna in your covered outside location to improve your network's range. A joyful party environment or a more relaxed attitude can be created by playing music outside depending on the situation.
Go Bold
According to interior designers, using earthy colors in interior design is one way to bring the outside inside. But those rich browns and greens have a tendency to blend in with the surroundings, camouflaging, when it comes to designing your ideal outdoor living environment. To add some joy to your outdoor environment, choose a strong color scheme. Select colors that offer a whimsical element that is inviting to both youngsters and adults while blending in with the natural tones of the outdoors. A cozy, unfussy appearance is created with colorful garden furniture, hammocks, or even vibrant picnic blankets. And if you want to update your entertainment area, you don't necessarily need to completely reupholster your outdoor furniture; simply replacing your worn-out throw pillows with some bold, eye-catching ones would work just fine.
Background Lighting
When the sun is out, bright colors are enjoyable and energizing. But what happens after sunset? With candles, lanterns, and strings of glistening fairy lights, it's time to go magical. Whatever lighting option you select, lighting the area will provide a warm ambience that your visitors will adore. In addition, people are much less likely to trip over anything when they can see where they're going, so the more cautious host will welcome the increased security. Additionally, outdoor lighting enables you to draw attention to specific elements of your outdoor space while allowing others to disappear into the shadows. Put some lights in the cherry tree that is in bloom, for instance, and let the garden bed that you never got around to weeding disappear into the night. When it comes to outdoor lighting, electric bulbs are by far the most frequent option; but, for a softer and warmer glow, you'll want to opt for a low-wattage bulb or an LED light instead. If you are interested in more traditional illumination, torches or lanterns can give an added dose of drama and romance to the occasion; however, you will need to keep a close check on them and have a fire extinguisher on hand at all times. By directing lights upwards, you may give the illusion of higher ceilings, and downwards, you can create a cozier, more personal atmosphere.
Love the Lawn (and Pool)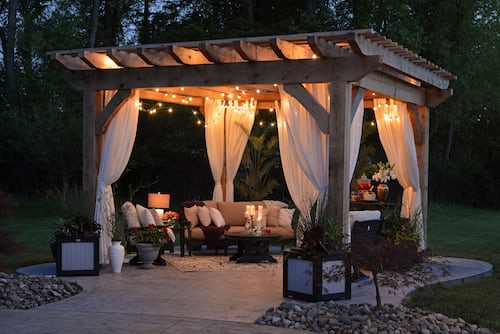 The devil is within the details when designing a chic outdoor living space. Even if you've carefully designed your outside space with cozy furniture and gorgeous lighting, a run-down lawn or a pool that's green may really ruin the look. Maintaining your grass and pool well is worth the extra work to avoid giving the impression that you are taking care of everything. Investigate correct lawn care methods if you're taking care of your grass yourself, but if things have grown out of hand, it still never hurts to employ a professional gardener to provide your yard a good start. The same is true for your swimming pool: don't wait to get the chlorine kit out until the child of one of your visitors asks if they're able to go fishing there. Keep the water clear by keeping an eye on the amounts of salt or chlorine, and if necessary, call in a specialist to identify and address any imbalances.
Bright Kitchen
While cooking on a weeknight can be tedious, cooking outdoors feels more leisurely than laborious, and nothing says "eating al fresco" like cooking outdoors. Recent years have seen a huge increase in the popularity of outdoor kitchen facilities, from backyard pizza ovens to restaurants on urban rooftops. Don't assume you need everything available if you want to follow the trend but find the construction work intimidating. The absolute minimum is BBQ. The outdoor kitchen's grill is where all the magic happens, but there are a ton of other methods to increase its usefulness. Consider an outdoor refrigerator if you have a covered area, as well as a sink and counter space for chopping and preparing food. Of course, a pizza oven is always popular. Don't forget to give seats some thinking as well. If you have enough lawn area, durable picnic-style tables work nicely. Additionally, picnic blankets with lots of cushions will promote relaxation. Building the outdoor kitchen will not only provide a fun focal point to your outdoor living space, but it will also eliminate a lot of back and forth movement between the BBQ and your interior kitchen.
With these ideas, you should be able to design the outdoor area of your dreams, whether you want to entertain Great Gatsby-style outdoor parties or simply spend some sunny alone time.