I am so over shopping for stocking stuffers that literally just do that – stuff the stocking but are useless.
One year my husband and I were both tasked with getting stocking stuffers for the family.  We figured if we both were on task, we could finish it one, two, three.  Christmas morning everyone got two hand creams, two chapsticks…you get the idea.
I searched for the fun, practical, and coolest stocking stuffers and here they are.  Bookmark this page because I am going to add even more as I find them!
STOCKING STUFFERS FOR HER
Smooth Legs
Living in South Florida equates to wearing shorts and dresses the majority of the time.  One thing you don't want to be caught with hairy legs!
The Aveline razor is a perfect stocking stuffer for any girl on your list.  It was designed specifically for a woman's body.  Instead of changing the color of a man's razor and labeling it for women (which is the case with a lot of brands), the creators of Aveline took into consideration what the perfect razor for a woman would look like and how it would perform.
Thoughtful features include:
5-way pivoting head
Push-button release for the blade (this way it won't pop off if it is dropped)
3×3 flexible blade cartridge
Ergonomic handle
Built-in stand
Purchase the Aveline razor as a subscription package for $9. 4 refill cartridges will be mailed out within 2 weeks, then at a monthly frequency of your choosing – 1, 2, or 3. And recurring shipments of 4 refills always ship FREE (Continental U.S. Only).
Aside from the razor itself, Aveline offers a line of skincare to complement our shaving rituals, including:
Salt & sugar body scrub – think super soft, exfoliated skin
Shea butter shave cream – super moisturizing
Botanical body lotion – fresh, light scent.
All body products are paraben-free, sulfate-free, phthalate-free, cruelty-free and made in the USA.  As of the date this article was published, the Beauty Bundle (all three body products listed above), a razor, and four refills is only $40.00.
Sweets are ALWAYS a Good Idea!
Introducing Sugar Plum's amazingly delicious chocolate bars!  Who wouldn't want a yummy sweet bar of chocolate in their stocking this Christmas season?
They offer a handful of chocolate combinations, and when I had to twist my family's arm to taste test them (hahaha) we couldn't pick one to be our favorite.
You can order them individually or as a 4-pack – along with all of the other delectable treats on their website.
Facial Masks
I don't care what anyone says, facial masks can be for everyone – men and women alike.  There are so many different types based on your skin type.  Are you prone to dry skin, oily skin, constant breakouts, or many want some whitening action to get rid of the sunspots?
7th Heaven has a mask for just about anyone.  They are super affordable, so you can pop a few in each stocking.  My favorites are:
Silver Easy Peel-Off Mask: minimizes the appearance of pores, cleanses the skin of dirt and grease.  It's so cool to peel it off once dried.
Tea Tree Oil Peel-Off Mask: targets the t-zone and other problem areas, tea tree oil aids in reducing occurrences of blemishes, calms and soothes skin
Dead Sea Peel-Off Mask: This mask harnesses the therapeutic properties of the Dead Sea.  It masks deep cleanses with the crushed sea salts, while the seaweed fights free radicals, and the chamomile soothes.  This one is only $2.50 per pouch.
Coconut and Clay Peel-Off Mask: Coconut hydrates the skin while the clay and seaweed help to purify and refine pores.
Bath Bombs
Soaking in a warm (or hot) bath can be heavenly after a long day at work, running after the kids, or an overly-strenuous workout.  I'm all about bath bombs and this new version is sure to be a hit with the recipient.
Green Grove's Revive Mood Boost bath bomb soothed my sore muscles from a long day of painting.  The bath bomb contains baking soda, non-GMO citric acid, Epsom salt, pink Himalayan sea salt, CBD, fractioned coconut oil, hemp extract, and therapeutic essential oils bergamot, lemon, and orange.
You can also choose to gift any of the other high-quality CBD products, such as tinctures, salves, and more!
ONE SIZE FITS ALL
You can never go wrong with gift cards.  My boys love their (decaf) Starbucks frappuccinos, so a $5 gift card is a perfect stocking addition.  Ice cream and candy shop gift cards are big hits too!
FOR THE KIDDOS
I used to put little tchotchkes in their stockings until I really took a look at what they would run-up to their room with after opening gifts and what was left on the couch.  It was the tchotchkes that didn't make it to the second floor.  Now I opt for pocket-sized games, such as Kanoodle, card games like UNO, and Rubik's Cube.
Both practical and super fun, Splatz hand soap makes your kids want to wash their hands.  Splatz are eco-friendly bubbles of pure hand soap that literally SPLAT! when kids squeeze them. Developed by two Harvard/MIT scientists using a patent-pending formula and all natural ingredients, these irresistible balls of fun change the way kids think about washing their hands.
Made in the USA, the story behind this eco-friendly product is one I think we can all assimilate with!  What you can't find in the soap? Parabens, BHT, synthetic dyes, phthalates, mineral oil, and synthetic fragrances!
Pick up a few for all of the kids (and kids at heard) on your gift list!
PRACTICAL
Socks
Everyone needs socks.  If you ask my dad, he'll tell you he has over fifty pairs of socks, and that is no exaggeration.  My mom sweetly requested that I no longer buy socks for him, but I can't help it.
AND, I may add that giving socks are not the same as giving underwear.
Here are some cool options to choose from:


Smooth Skin
I love smooth skin, especially when it comes to my hands.  I wash my hands frequently, which makes my skin drier than normal.  For me, hand cream in my stocking is a win! 😉  Here are some I recommend:
A Toothbrush?  Seriously?!
Yes, very seriously.  My mom introduced me to the Quip toothbrush and now it is going in everyone's stocking.  No more worrying about having to go to the store to get a new toothbrush every three months – or in our case wondering when we last changed our toothbrush.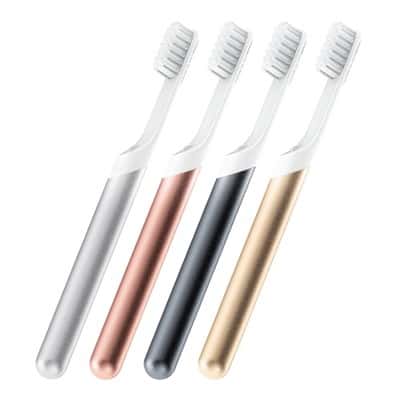 These super sleek and affordable electric toothbrushes come straight to your doorstep.  Sign up to receive a new toothbrush head and batteries every three months.  There's nothing to even think about.
COOLEST STOCKING STUFFERS
I'd love to hear what you like to stuff your stockings with. Comment below!