OF COURSE the reason why I sign up for these beauty subscription boxes is to find the most convenient ways to learn about and test up and coming and best performing beauty care products.  I don't have time (nor the budget) to go to the department stores and try each and every facial wash doted as the "BEST". This is where subscription boxes such as Birchbox and Ipsy come in.
I've shied away from Birchbox the past few months because the last box I received was less than stellar – BUT I've been seeing better boxes come through my friends' mail, so I figured I should give them one more try.  (I also signed up for Ipsy, which will be another post.)
I am happy to say that this Birchbox was a goodie!  Besides containing a sample from one of my favorite lines, Caudalie, the other samples are definitely items that I am interested in checking out.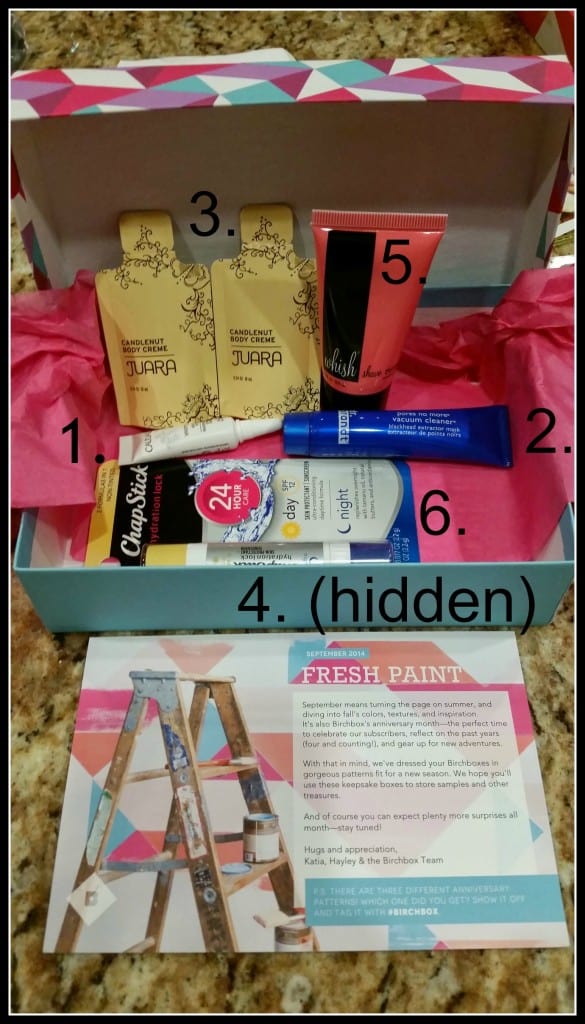 Included was:
Caudalie's Vinoperfect Radiance Serum (a little while ago I posted about how red wine is also a great ingredient in beauty products) – it boasts to fade dark spots and even skin tone – something I do need on my cheeks.  I have started the sample, but feel that it will take a few weeks to see the full results.
dr. brandt pores no more vacuum cleaner – sorry if this is TMI, but every time I go to get a facial, my esthetician tells me that my nose is a breeding ground for blackheads (that is gross, I apologize again, but this is reality).  The directions for this product says to apply 2-3 times weekly and then rinse after 5-10 minutes.  I can't wait to see the results.
Juara Candlenut Body Creme – my skin is always dry.  I drink a lot of water everyday (well, on the weekends I slack a bit, but I am trying…).  This body cream is applied a bit differently than traditional creams.  You are supposed to put it on a loofah, work into a lather, massage over your skin and then rinse.  I did so – and my skin did feel well-nourished and smelled yummy too.
Noir Cosmetics Long-Wear Eyeliner – this is a full size!  It's waterproof and I will definitely be using it!
Whish Shave Crave – currently I use EOS shaving cream but tried this sample and it smelled good and seems to have done the trick.
This may sound silly, but my favorite of all was the ChapStick Hydralock  It is double sided.  One side is meant to be used at night to replenish your lips while you sleep (with a  soothing camomile scent).  The other side is for the day time and contains SPF 12 sunscreen.  So handy!  I tried it right out of the box!
I am super happy with this month's Birchbox and look forward to next month's!  If you are interested in trying out Birchbox, it's only $10 a month and you can cancel at anytime.