BACK TO SCHOOL ESSENTIALS
Can you believe it's back to school time already?  I've curated some essential products that are perfect for your kids' transition into the new school year!
Here's my latest news segment with a snapshot, but be sure to scroll below for full details!

COLD BEE GONE
Homeopathic cold remedy Cold Bee Gone was developed by mompreneur Joyce Dales after her newly-adopted daughter from Vietnam needed open-heart surgery due to a heart defect caused by agent orange. Joyce was determined to help her daughter recover as naturally as possible. She invented a special remedy — a unique blend of homeopathic ingredients, Raw Active Manuka honey and essential oils. What began as sharing the remedy with family and friends has evolved into a product that has gone to the mainstream market across the nation. This year, Cold Bee Gone was added to the shelves of 2,500 CVS stores nationwide.
The science behind the nasal swab method is that cold and flu viruses generally enter the body through our eyes, ears nose or throat, and then replicate millions of times within 1-7 days. Introducing Cold Bee Gone can help reduce the duration and severity of the illness.
MY INFINITE AGENDA
My Infinite Agenda is an elegant and dynamic vision-board planner designed for your busy lifestyle. What you focus on – you attract! With My Infinite Agenda your goals and dreams are merely a pen-stroke away!
My Infinite Agenda will clearly guide you through section prompts to start turning your wishes and goals into realities. Using the expansive, functional writing spaces, you will organize your daily schedule – while simultaneously tracking your highest ambitions. At the end of each month, My Infinite Agenda will inspire you to record your infinite winnings – so you can capture your goals and dreams as they come to fruition.
Are you ready to recognize all your greatness? My Infinite Agenda invites you to explore the world of infinite possibilities; imagine the life you want & build it!
My Infinite Agenda has three different collections of yearly dated, midyear/academic dated, and undated agendas; each line with four different colors that give back to 4 powerful charities making an infinite impact around the globe!
This agenda will encourage you to…
Foster thoughts of gratitude in order to attract more of what enriches you.
Clearly organize and articulate your short-term, long-term, and wildest dreams– so that they will grow, flourish and reach fruition.
Ask for anything you dare to dream.
Expand your mind to greater possibilities.
Celebrate the changes that take root in your life.
Train your mind to be a fortress of positive thought, unshakable on your journey to self-actualization.
To live bravely and grow closer to realizing the highest, truest expression of yourself.
To ask, believe, and receive and trust that what is meant for you, will not pass by you.
INSIDE THE PLANNER
12-Month Calendar (August start)
2-Year Calendar Overview (Monday start)
Weekly Layout Pages Split M/T/W, Th/Fr/Sa&Su
Section Trackers for Gratitude, Short-Term Goals, Long-Term Goals, and Wildest Dreams
Vision Board Pages
Daily Schedule Space
Daily Goal Setting Lined-Prompts
Daily Gratitude Lined-Prompts
Monthly Infinite Winnings Pages to Track Successes
2 Page Monthly View Spreads & Tabs
Year in Review Prompts
Inspirational Quotes Throughout
Extra Grid-Line Note Pages at End of Each Month & Year
Suggested Reading for Daily Inspiration
2 Sticker Pages
TOHI BEVERAGES & THE BERRY YOU'VE NEVER HEARD OF!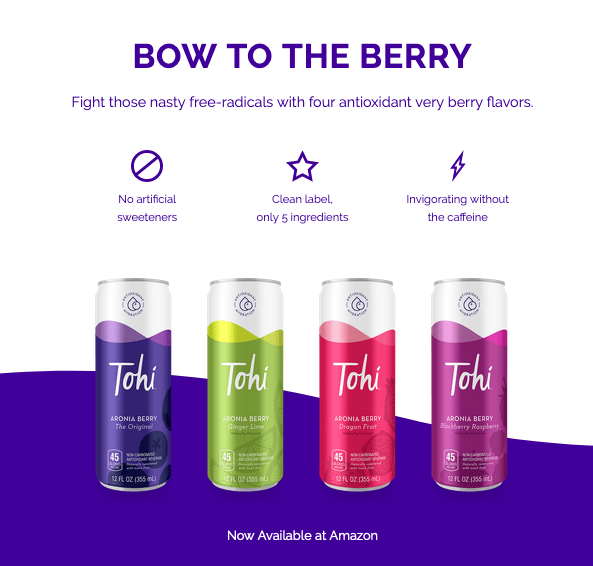 Tohi drinks are the creation of two female friends who were looking for ways to help themselves, and others like them, make purposeful decisions in the pursuit of wellness. It was then that they learned of the Aronia berry; a lesser-known, super-powerful, antioxidant recovery berry that has 4x the antioxidants of a blueberry! Inspired by the traditional use of natural foods and herbs for healing and balance, they chose the name Tohi for their beverages, a Native American word meaning both "peace" and "wellness" because the two are so deeply intertwined.
The Aronia berry makes Tohi drinks deliciously good for you. Additionally, Tohi is all-natural, low in calories, and low in natural sugars, with only 4 ingredients.  Tohi's Aronia Berry drinks are high in naturally occurring antioxidants. Available for sale on Amazon, they come in 4 great flavors:  The Original Aronia Berry, Ginger Lime, Dragon Fruit, and Blackberry Raspberry.
Make an Impact: Aronia berries are grown in the U.S.A. and if unconsumed, these crops, unfortunately, go to waste every year. So, Buy a Tohi – the first brand to make the Aronia Berry widely available, and support U.S. Aronia farmers and growers at the same time. Don't waste it, taste it… Buy Tohi!
HERSCHEL BACKPACKS

Founded in 2009 by brothers Jamie and Lyndon Cormack, Herschel Supply Co. adopted the name of the town where three generations of the family grew up.
Based in Vancouver, Canada, this design-driven global accessories brand produces quality products with strong attention to detail.
Prices range from $39.99 and up, and can be found in stores (Nordstrom, Foot Locker) or online (Amazon, Nordstrom, Herschel, to name a few).
EAR SAFE FOR KIDS
Did you know that as your child's ears are continuously developing, even 30 minutes of standard headphones made for adults may cause hearing loss and/or damage? The Ear Safe 4 Kids volume-limiting technology allows kids to safely listen to their favorite music for up to 6 hours. The kid-approved comfort fit, with sweat-proof silicone ear cushions, provides comfortable wearing. The foldable design and included storage case make it travel friendly.
Features:
Ear Safe 4 Kids volume-limiting technology protects your kid's hearing
Noise-isolating in-ear comfort design
Parent & Kid-approved clear sound perfect for watching movies, playing games, and listening to their favorite tunes
Soft silicone ear cushions in three sizes allow for a comfortable fit for any age
Travel case included keeping their earbuds neatly stored while on the go
Recommended ages 6-12
You can purchase them online HERE and if you use promo code PELLERINI, you will receive 20% off!