If you have a downstairs and upstairs bathroom, then lucky you. Having both is somewhat of a luxury, even in this day and age.
Unfortunately, many people aren't making the best of their downstairs toilet. Sure, it does its job, but it's not exactly inspiring. It lacks that extra "wow" factor that so many homeowners would love it to have. 
If you're in this position, then this post is here to help. In it, we take a look at several inspiring downstairs toilet ideas. Here's what you need to know.
Keep It Neat And Tidy
Downstairs bathrooms lack space generally. Therefore, cluttering them up is a bad idea. 
Fortunately, there's a solution: keeping it tidy. These days you can get several clever storage solutions that fit into every nook and cranny in the space. You want drawers under the mirror, storage about the door, and built-in cabinets for extra space. 
If the downstairs bathroom is literally just a toilet and sink, you can eliminate any form of storage entirely. This helps the room feel pleasant and clean, even if it isn't particularly practical. 
Make A Bold Statement With Decor
While you might shy away from making bold statements in the dining room or living room, it is something you can do in the downstairs toilet. It's such a small room, it almost needs something bold and daring to make it interesting. Try adding crazy wallpaper coverings, antique mirrors, and decorative floor tiles. Make the interior space feel utterly unique to you. If someone tells you what you're doing is too bold, ignore them. It's your house, after all.
It's worth pointing out that adding wallpaper is significantly less labor-intensive than tiles. Plus, these days, there are plenty of wallpaper types that are suitable for the bathroom. Just spread the adhesive on the wall, fix the wallpaper and the job's done. Quality products shouldn't warp and peel, even after several years of use.
Reflect More Light In The Room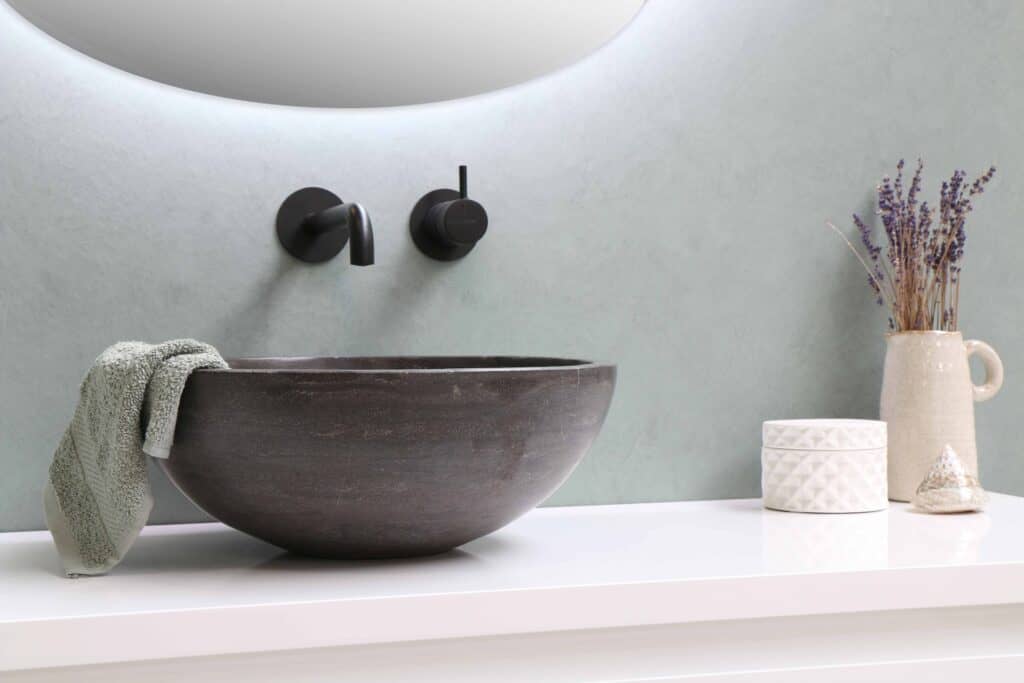 You should also try to reflect as much light in the room as possible. Most downstairs bathrooms only have a small window or none at all. 
There are plenty of ways to do this. One of the best is to get an illuminated mirror. These project LED lights in all directions, helping create a sense of spaciousness. You can also do things like placing decorative mirrors on the opposite wall to the window or covering the entire wall with a reflective surface.
Use Oversized Tiles
You want your downstairs bathroom to look as big as possible. That's where including oversized tiles can really come in handy. These help to give small spaces a more luxe feel and can also make the room itself feel significantly bigger.
You can add large tiles to the floors, walls, or backsplashes. Larger format tiles reduce the quantity of exposed grout and make the room look and feel more seamless. 
Consider Comfort
Most people try to get in and out of downstairs bathrooms as quickly as possible. They're cold, cramped, and claustrophobic.
Fortunately, there are several ways around this. First and foremost, get the heating right. Add underfloor heating elements plus a heated towel rail. Make sure any radiators are tall and slim, replacing existing ones if necessary. 
Next, opt for soft furnishings. Make sure that the toilet surround rug is thick and plush and feels great underfoot. 
To reduce claustrophobia, consider expanding the size of the window. Let more light enter rooms. 
Get Rid Of That Damp Smell
Have you ever noticed that small downstairs toilets tend to smell more damp than larger rooms? The reason has to do with air circulation. Toilets tend to collect more moisture, both because they are colder and rooms contain water. 
The best way to get rid of the damp smell is to improve your extractor fan. Ideally, it should be the size of a postcard or larger. If it's smaller than that, it's not providing sufficient ventilation and you'll notice damp starts to build. 
Select High Quality Flooring
Because downstairs toilets are so small, you can usually splurge on the flooring. These's less area to cover, so you can afford a better finish.

Choose something that's really going to stand out, like marble or quartz. Find rocks with rare grains so that your rooms are utterly unique. 
You can also try vinyl. The great thing about this material is that it's easy to clean and suitable for the downstairs lavatory. It's ideal for anyone who has builders in their property or dirty guests over to stay regularly.