A lot of people have been asking me, "What is pilates?" Good question!  I found out about this form of exercise a little over a year ago and was hooked from day 1.  
I suffer from chronic lower back pain.  It all started about five years ago in a less than heroic way.  I was undressing out of my work clothes into something more casual – walking while taking my pants off, stepping on my pant bottom, and slipping – falling right on my butt.  It was like a cartoon-turned-life experience.  My feet flew out in front of me, my butt hit the hardwood floor, and my hands saved me from hitting my head.  I, of course, ignored it.
Three months later, as part of my New Years' resolution, I ran my usual 3-mile stretch.  I beat my best time!  I couldn't walk 3 hours later.  A herniated disc between my L-5 and S-1 left me with a lot of pain, and not much I could do.  I walked like I was an old lady, and started to research how I could get better.  I tried injections in my facets (either side of my spine by the discs), physical therapy (two different facilities), acupuncture (two different doctors), chiropractic (two different ones), and nothing seemed to stick.
Someone mentioned that I should try Pilates, and not knowing much about it, I started to research what it actually was as well as studios nearby.
WHERE DID PILATES ORIGINATE FROM?
Pilates originated when Joe Pilates (yep, there was a person with the name "pilates") was a young boy back in Germany in 1883.  He had asthma and other ailments and created his exercise regimen to help make him feel better.  As time went on, Joe refined his techniques and created machinery similar in concept to the reformers we have today.  He came to the US, where he opened his first studio in New York –  a favorite place for dancers to exercise.  Slowly, pilates studios opened across the US and is an integral part of training for the NFL, MLB, NBA, NHL, and Cirque du Soleil!
There are two types of Pilates – mat, and machine-based.  I love the machine but have heard great things about mat-based (that it is a bit harder too than machine-based because you don't have the springs and pulleys to "help.")
THE PILATES MACHINE ITSELF
The main reason I was told to check out Pilates was to strengthen my core and the muscles surrounding my back – creating a barrier of sorts to ease the pain hopefully.  I went for a few private classes at first, to get myself acquainted with the machinery and some of the moves.  When I went to the studio for the first time, I was a bit overwhelmed – the machine itself looked like something out of a torture chamber.
My instructor was very patient with me (thanks Anat!), and introduced me to the machine itself.  The horizontal portion of the device is called the reformer.  It's made up of a mat (or carriage), springs, a foot bar, and straps.  The vertical portion of the machine is called the tower, and there is a way to transform the reformer into a full tower, using an extra mat (I'll show you a photo later!).
The reformer that I use has five springs in total – three red (the heaviest), one blue (second heaviest), and one yellow (lightest of the three).  Depending on the exercise and the level of difficulty, the instructor will tell us to put one red and one blue on, etc.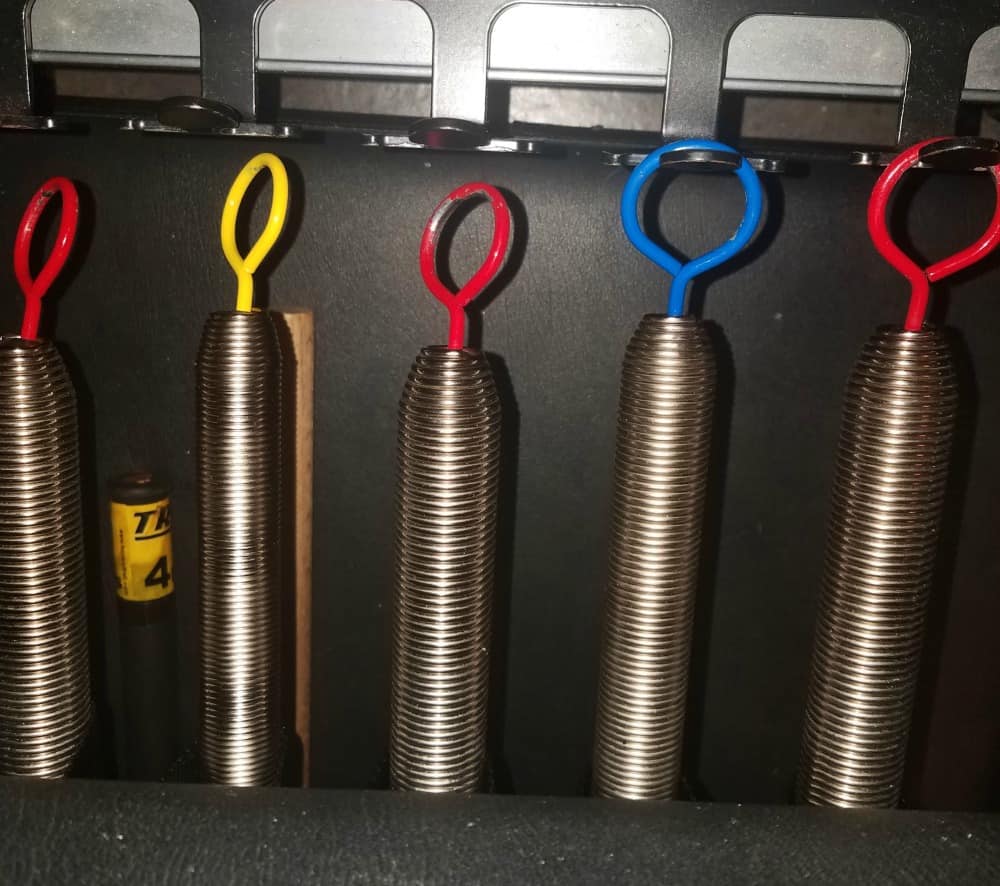 There are so many different exercises that you can do with the reformer and tower, as well as with the addition of a jump board and other "accessories" – a small inflated exercise ball, hand weights, the magic circle or ring (oy), yoga mats, and a large box to name a few.
My studio also has an apparatus called the chair, which works your core – really, really works your core.  It reminds me of a padded bench with a spring-loaded pedal.  I have a love-hate relationship with the chair.
BENEFITS OF PILATES
Pilates is a fantastic way to:
Stretch out your body
Strengthen your core
Increase flexibility
Minimal impact on your joints
Prevent injuries and
Aid in obtaining good posture.
IMPORTANT THINGS TO REMEMBER
It takes time to get the hang of it,  but I've learned that the most important things to do are:
Keep your back flat on the mat/carriage when doing exercise – belly button to spine.
Pull your abs up and in.
Listen to the teacher's instructions carefully – sometimes, there are a lot, but this teaches you to be mindful of your body and what you're doing.
Listen to your body.  During the first few classes, I would do specific exercises that would cause my back to ache, but I still did them – no good.  There was something about "long spine" and "short spine" that felt great but ended up hurting my lower back.  I spoke with my teachers beforehand, or after I tried a new exercise that didn't fare well, and they provided modifications or other activities I could do in place.
Stretch afterward.  You feel great after 50 or so minutes of exercise and stretching, but it's essential to take those few extra minutes to stretch out your legs.
I have seen such a difference in my body overall, not just my back!  Pilates won't be the exercise class that will help you lose those stubborn 10 pounds, but along with an aerobic class, it can transform your body and mind.
Have you ever tried Pilates?  If you have any other core-strengthening exercises that you like to do, please comment below!