I was recently invited to a Taste Paso Robles Master Class, led by Master Sommelier Joe Spellman.  This focused tasting opened my eyes to an amazing wine country I didn't know existed!
A little over 6 years ago I visited Napa Valley and learned so much about the world of winemaking.  It's nothing like Lucille Ball stomping around in a vat of grapes.
I learned about the different varietals of wine, how wine is made, as well as how much of an impact soil, weather, and water make on the season's crop.
Paso Robles
Paso Robles Wine Country is located in the San Luis Obispo County of California.  It is about 25 miles from the ocean, halfway between Los Angeles and San Francisco.
Interesting Facts
Joe DiMaggio and Marilyn Monroe spent the first night of their honeymoon in a motel on the south side of Paso Robles back in 1954.
Paso Robles AVA (American Viticulture Area) was established in 1983 with 17 wineries and 5,000 vineyard acres.  In 2017, vineyards cover over 40,000 acres – 200 + wineries in total and 40 varietals.
The largest plantings are of Cabernet Sauvignon and Bordeaux.
Zinfandel is the region's heritage wine grape and was first planted in the late 1880s.
Focused Tasting
While learning about how the different soil series, microclimates, and varying topography affect the grapes I tasted some great glasses of wine!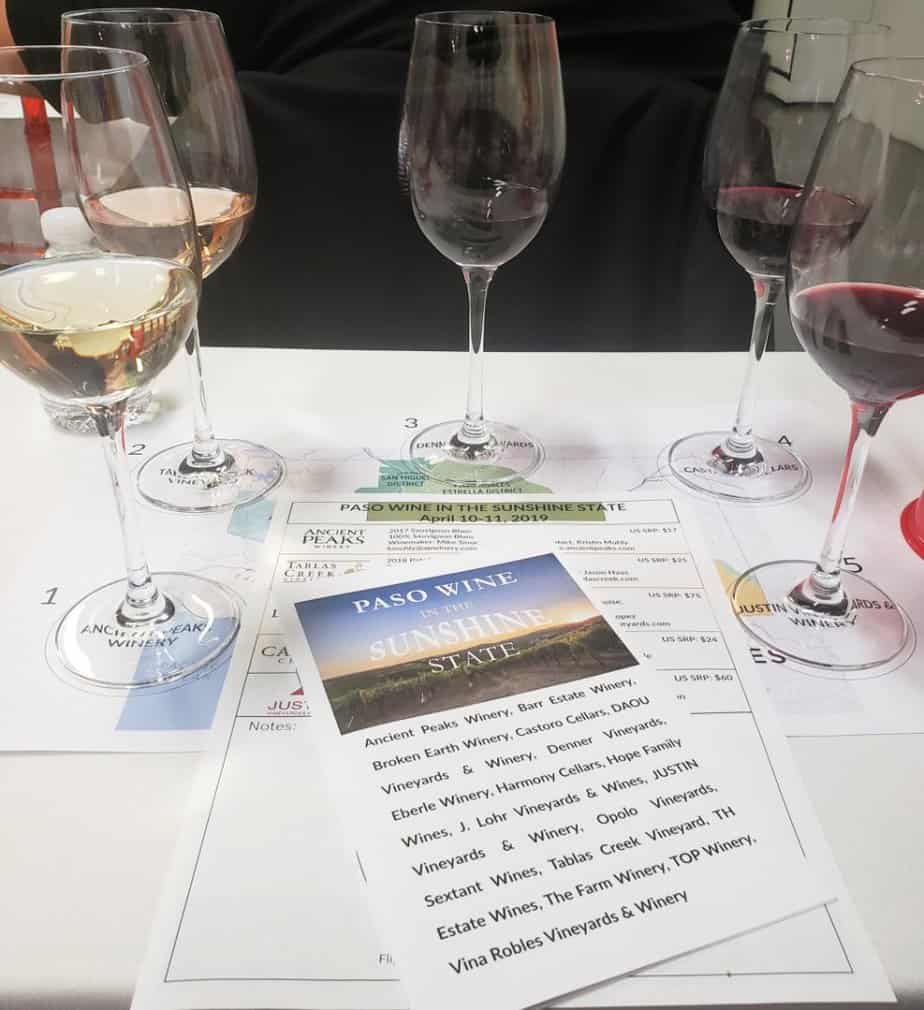 My favorites by far were:
Tablas Creek Vineyard 2018 Pateln de Tablas Rose' – it wasn't too sweet or too dry.  I'm definitely adding this to my rose' rotation.
Justin 2015 JUSTIFICATION (52% Cabernet Franc, 48% Merlot) & 2015 ISOSCELES (76% Cabernet Sauvignon, 13% Cabernet Franc, 11% Merlot) –  Red is my all time favorite.  Both of these two reds were delicious.  They were smooth, not heavy, and can be paired with just about any dish.
Sustainable Viticulture
I had a wonderful conversation with the Ancient Peaks Winery representative about sustainable viticulture.  I found it very comforting that this vineyard is protecting the environment, their employees, and the surrounding community.  Some of the sustainable practices enforced are:
Natural cover crops
Deficit irrigation
Wildlife corridors
Rotational groundwater usage
Using compost tea in lieu of synthetic fertilizers
Addresses the treatment of workers
Ancient Peaks is one of the vineyards that are SIP Certified, along with JUSTIN vineyards and wineries, Castoro Cellars, Smith Family Wines to name a few!  To find other SIP certified vineyards and wines, visit their website or look for the SIP seal!