When I think of Winter, I think of snow (which we don't see a lot of where I live now but did when I was growing up in the northeast) so I decided this party's theme was going to be an All White Party.
I love to host parties. There's something about getting all of your friends and family together to hang out and have a great time. The past few years we have been hosting Halloween parties and Ugly Sweater parties, but this year I wanted to do something different.
I finally nagged my husband enough for him to agree to it. I immediately sent out a save-the-date via Facebook so there was no way he could take it back…hee hee, and the party planning began!
Check out my list of all white party supplies on my Amazon storefront!
ALL WHITE PARTY INVITATION
First I went onto Paperless Post and found a really pretty invite that worked perfectly for the white theme. You can customize just about anything on the invitation itself.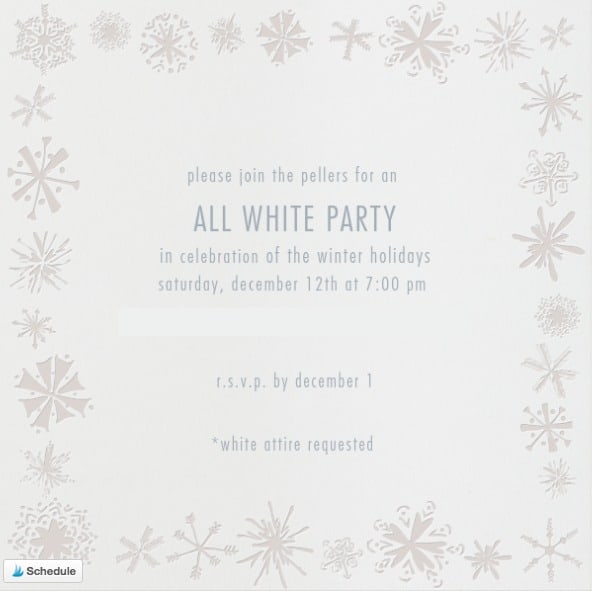 FOOD
It's harder than you think to come up with a menu of all white food. This is what we ended up with:
Appetizers
Whitefish dip with pita chips
Spinach dip (with crab and one without) and Carr's water crackers
Crab cakes (they are kind of white) and an aioli dipping sauce
Baked Brie
Cheese platter – manchego, white cheddar, Iberico, and goat cheese
Main Course
Pureed parsnip: Boil the parsnip in water until extra soft. Drain the parsnip and place in a pot with 1/2 cup milk. Use an immersion blender to puree.
Baked cauliflower: Cut the cauliflower head into florets. Place the florets in one layer on a baking sheet. Douse them with extra virgin olive oil, and salt and pepper to taste. Bake until they are tender. YUM!
Aglio E Olio: This is a super easy spaghetti dish with garlic and olive oil.
White macaroni and cheese: We like to make our macaroni and cheese with 3 different kinds of cheese, but you can make yours with as many or as little as you like!
Roasted turkey breasts: You can purchase the turkey breasts already prepared from Honey Baked Ham or the local supermarket, or roast them at home.
Desserts
White cake
White frosted cookies
Candy Bar!

Marshmallows
White jellybeans
White chocolate Kit Kats
White taffy
White cheddar popcorn
White sixlets
White rock candy
White chocolate covered snowflake pretzels
Beverages
Tom Collins: 2 parts lemonade, 1 part simple syrup, 4 parts seltzer, 3 parts gin
White Sangria: Sauvignon blanc with lemon, peaches and green apples
White wine: Pinot Grigio or sauvignon blanc are two crowd favorites!
We also had vodka and tequila with mixers, along with beer
I created little cards for each dish (this was especially useful for the cheese platter).
DECORATIONS
All of our tables were covered with white tablecloths. Centerpieces were a combination of floating snowflake candles, flowers and painted wine bottles with glittered and snow-flocked twigs.
I lit candles (both LED and wax) throughout the house and our backyard.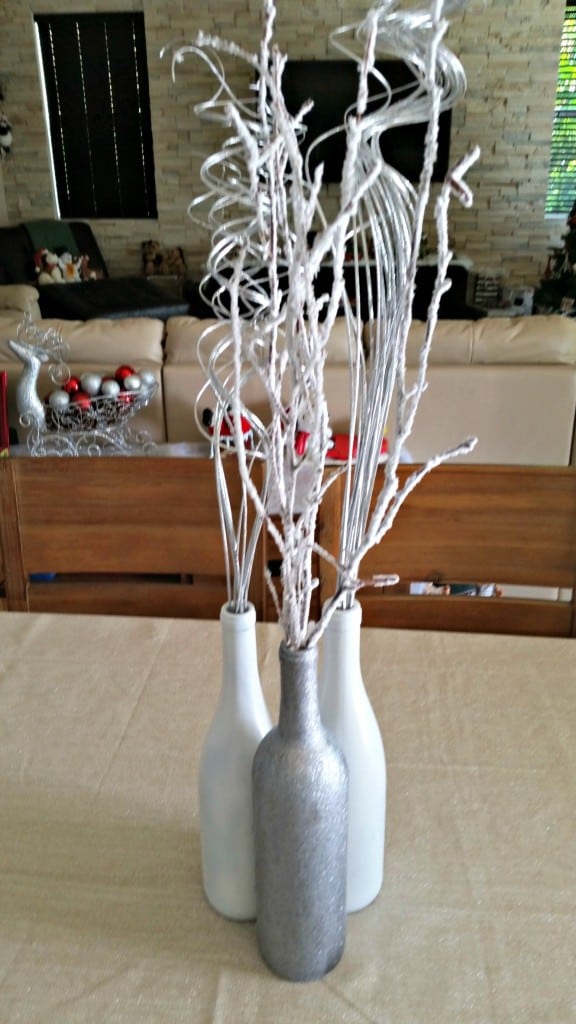 My husband is not a fan of putting up holiday lights (the whole getting on a ladder, yada yada…) so we went with the snowflakes below.
I wanted to cover the patio table chair cushions as they were blue, so my (super smart) friend Melissa came up with the GREAT idea to cover them in white XL cotton t-shirts. This worked out perfectly, and I don't think anyone realized they were t-shirts!
The photo below shows the sleeve to illustrate how we put them on, but before the guests arrived, I made sure to tuck those in!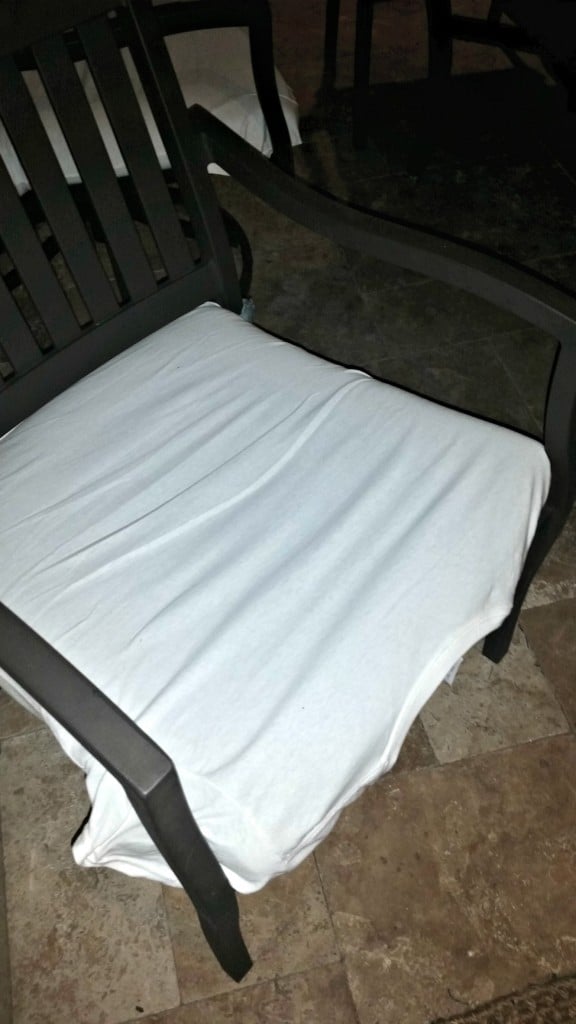 GUESTS
The guests all arrived in white. Everyone looked amazing - I wish I took a group photo!
I decided to check out Rent the Runway's white dress selection because I didn't want to buy a white dress if I didn't know when I was going to wear it again. The Thursday before the party my dresses arrived - you order the dress in 2 sizes to ensure a perfect fit.
Saturday all I had to do was steam it a bit to get out the wrinkles from shipping. At the end of the night, I packed it in the enclosed packaging and brought it to a UPS drop off the next day. It couldn't have been any easier!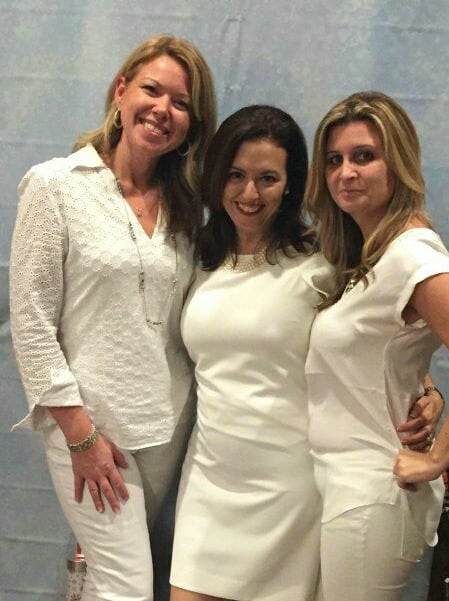 I didn't get a good pic of the back - which was the main reason why I chose this dress, so here's one from the RTR site:
We set up a photo booth with some of my scarves and hats as well as cute holiday-inspired props (once again thanks to Melissa).
All in all, it was a great party - one I need to recreate this year for sure!