How does your bedroom make you feel? Think about a time when you experienced the ultimate in luxury and what it was that made the room so welcoming and relaxing, and then look at how you can incorporate this into your bedroom. Maybe it was a hotel, or you stayed over at a friend's house or relatives. Whatever it helps you feel more relaxed, you should think about incorporating it into your bedroom at home.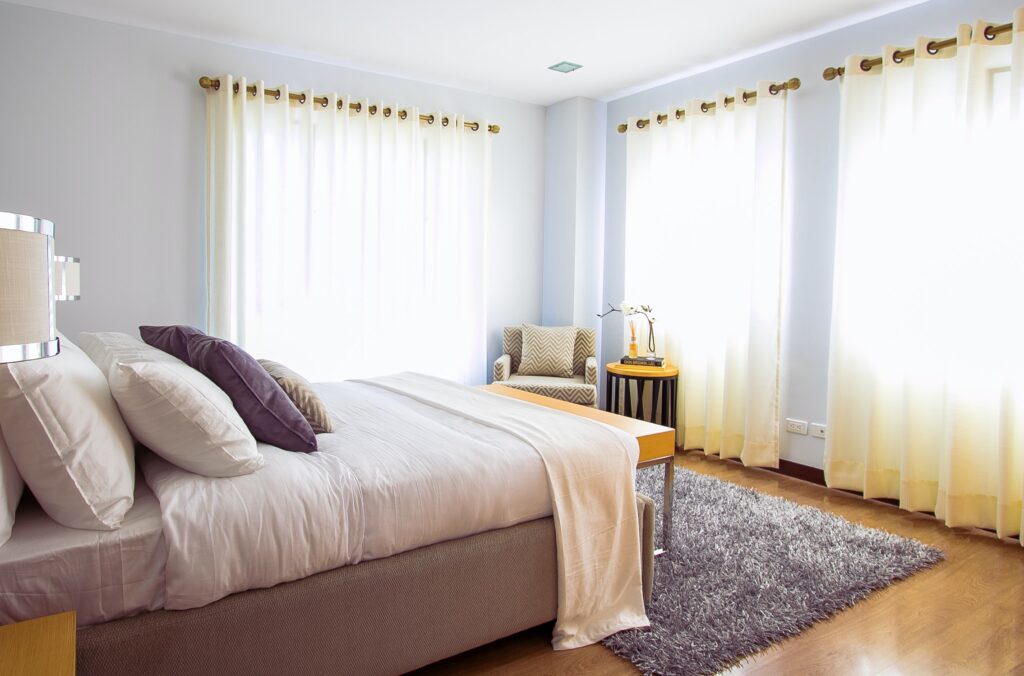 So what can you do to recreate a relaxing, luxurious feeling in your bedroom? If it is anything but relaxed, then you need to look at what changes you can make within your budget to help you create that ultimate relaxation at home.
Flooring
If you think about hotels, chances are you notice they all have one thing in common when it comes to flooring. They will typically all have carpets down. Carpets are a great way of adding luxury to any room, and plush, deep pile carpet can be super soft underfoot and help to offer a layer of warmth during colder seasons.
For added luxury, regardless of the type of flooring, you have to consider adding a rug under your bed so that it comes out around the edge of your bed, making an almost platform type area to give your room definition. This can help keep your bed area free from clutter and anything that can interfere with your sleeping arrangements.
Colors
It would be best if you had any color you want in your bedroom but try to limit it to the same color palette to avoid too much going on. Suppose you are using a heavily patterned wallpaper pair with plain neutral colors for the walls to balance into and not overwhelm the room, especially smaller spaces.
For an added luxurious feel, incorporate your color scheme throughout and go for soft whites and delicate pastels that look and feel welcoming and inviting. Keep it simple with minimal colors and a uniform look.
However, brighter personalities who like more color can still indulge this by adding splashing and pops of bright colors in decor items carefully placed around the room.
Experts agree that if you want a relaxing environment for sleep, the best colors for rest include; blue, yellow, green, silver, orange, and pink as they are relaxing and stress-reducing.
Declutter
The key to any relaxing room is to remove anything that increases your stress levels. Decluttering your bedroom can help you remove unwanted stress and give you a space you can breathe and feel calm in.
Break it down section by section, for example, start with your wardrobe and identify any items you no longer want or wear and make a plan to donate them to have them removed from the room, e.g., into storage (vacuum bags work excellent for storing clothes and take up less space). Then move onto shelves, cupboards, dressing tables, and so on. It may take a while, but not only can decluttering be cathartic, but it can help you to overhaul your bedroom, so it sparks joy.
Pictures
Once you have decided if you will redecorate your room or not, you can look at adding pictures and shelving to your room to create a comforting environment. Choose a space to create a gallery wall, or hang a wide image above your headboard as many hotels do. Alternatively, your headboard could double up as a piece of art above your bed.
Look at Wall Decals for the Bedroom to help you to create a stunning yet straightforward effect that ties your chosen bedroom design together.
Triple Sheeting
Triple sheeting is a fancy hotelier method that includes placing a lightweight blanket or duvet between two starched sheets. The benefit of using this procedure is that not only does it provide a bed that feels crisp and clean, but it is also incredibly cost-effective and straightforward to implement. Because the blanket can be laundered less frequently, it eliminates the requirement for a duvet cover.
Focus on Statement Pieces
Each bedroom has its focal point, whether it's a dark wood 4-poster bed with soft linen drapes, a lovely gilt dresser, or a velvet chaise lounge. Just make sure it's the focal point of the room. Avoid overcrowding the room with furniture, and instead, allow each piece to stand on its own.
You can use your statement piece to add color and texture to your room, especially if you are going for a more minimal style.
Consider Wall Panelling
Wall paneling is a popular way to add character to your walls in luxury bedroom ideas, and there are many different strategies you can use to do this. Make your walls more visually appealing by cladding them with wood that is half or three-quarters the height of the walls and painting the wood in a contrasting color.
Before deciding, experiment with the shades in your home to see how they look in different lighting conditions. If this seems like too much of a big task for you, there is some impactful initiation panel wallpaper on the market that offers you a similar look and style but for a fraction of the cost and work involved.
Pay Attention to Detail
When you go to a hotel, it will be styled in a very particular way. There is a reason for this: setting up a scene in the room and creating an image in your mind. Careful placement and styling of any accessories or furniture in your space can make just as much impact as the type of items you are placing. The correct placement can change the look and feel of a room. So play around with arrangements and consider how you feel before deciding on the final location for everything in your room. Take a seat, lie in bed, and contemplate how different placements make you feel before committing.
Creating a relaxing, luxurious bedroom requires an eye for detail and a focus on all things calming and effective. Look for inspiration beforehand online or in your favorite hotel before jumping in so you can identify what you and, more importantly, what you don't like.