Undoubtedly, a well-maintained backyard can be a great source of pride for any homeowner. However, many people find themselves with unused space in their backyard – whether it is due to a lack of landscaping ideas or simply because they don't know what to do with the extra room. Here are a few unique ways to give purpose to the unused space in your backyard.
#1 Install a Garden
Installing a garden is a great way to use unused space in your backyard. This can be done by simply clearing a section of the area and planting some flowers, vegetables, or herbs. If you don't have a green thumb, you can also purchase pre-made gardens from many home improvement stores.
If you choose the DIY route, consider the amount of sunlight the area receives throughout the day, as this will affect what type of plants will thrive there. You'll also want to consider the soil quality and drainage before starting.
Once your garden is installed, be sure to maintain it regularly by watering and fertilizing it as needed. With a little bit of care, you'll have a beautiful space to enjoy in no time.
#2 Add a Patio
A patio is a great way to add value to your home. It can be used for entertaining, relaxing, or as an outdoor living space. If you have the space, consider adding a patio to your backyard.
There are a few things to remember when adding a patio to your home. First, you'll need to choose the right location. The patio should be situated in an area with plenty of sunlight and away from any trees or shrubs that could drop leaves or branches onto it. Second, you'll need to decide on the type of material you want to use for your patio. There are many different types of paving materials available, so do some research to find one that suits your needs and budget. Finally, you'll need to choose the right furniture and accessories for your patio. Make sure to pick durable and weather-resistant items so you can enjoy them for years to come.
You should consider creating an enclosed patio to make your patio even more unique. This is a great way to enjoy the outdoors without worrying about bugs or weather conditions. You can enclose your patio with screens, windows from Oshkosh Window, or even plants. Just make sure to leave enough space for ventilation, so you don't end up with a stuffy room.
#3 Add a Fire Pit
If you have the space, adding a fire pit is a great way to give purpose to your backyard. Not only will it provide a place for you and your family to gather and enjoy the outdoors, but it will also be a great addition to any parties or gatherings you may have. A fire pit can easily become the focal point of your backyard, and with so many different styles to choose from, you're sure to find one that fits your taste.
Consider adding a fire table if you're looking for something a little more unique. Fire tables are becoming increasingly popular and for a good reason. They offer all the benefits of a traditional fire pit but with the added bonus of being able to use them as a table as well. This means you can use them for cooking and dining, making them perfect for entertaining. No matter what type of fire feature you choose, be sure to follow all the safety guidelines to ensure everyone enjoys it safely.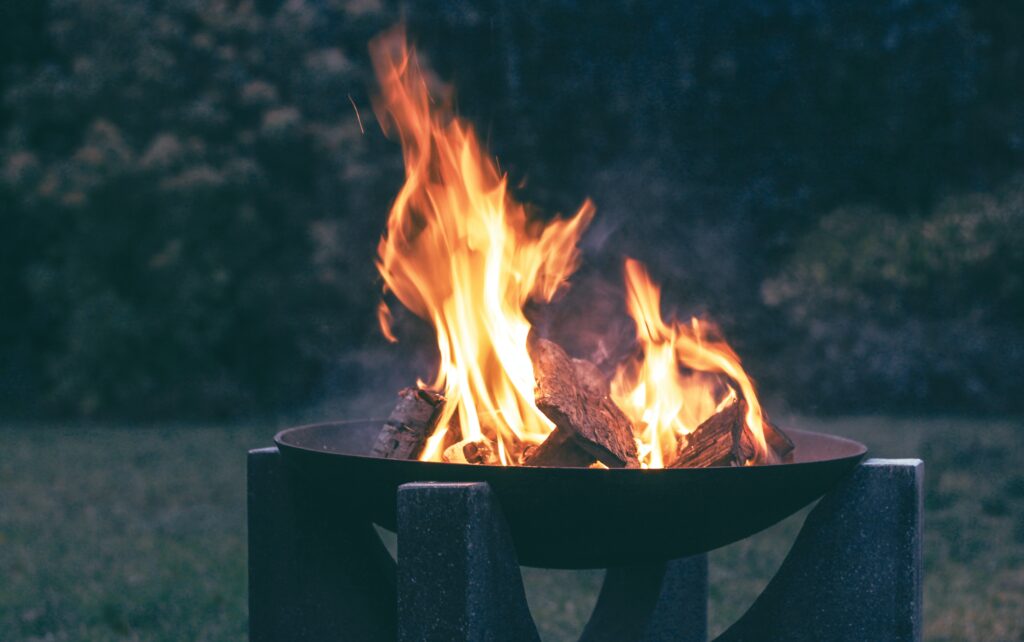 #4 Install a Pergola
If you're looking for a way to add some shade to your backyard, consider installing a pergola. Pergolas can be built using various materials, including wood, metal, and PVC. You can also buy kits that include everything you need to install a pergola in your backyard.
If you have the time and money, you could even build a pergola yourself. This project is perfect for handy people who enjoy working with their hands. Building a pergola from scratch will allow you to customize it to your liking and make it truly unique.
Installing a pergola in your backyard is a great way to add some character and create an inviting space for entertaining guests or relaxing on your own.
#5 Add a Swimming Pool
A swimming pool is a great way to use unused space in your backyard. It can be used for recreation, exercise, or simply relaxing in the sun. If you have the budget for it, a swimming pool is an excellent addition to any home.
Swimming pools are available in various shapes and sizes, so you can find one that fits perfectly into your backyard. You can also choose from above-ground or inground pools. Above ground, pools are less expensive and easier to install, but inground pools will add more value to your home.
If you decide to add a swimming pool to your backyard, be sure to consult with a professional before starting the project. They will be able to help you determine the best location for the pool and advise you on the necessary permits. They can also help you choose the right type of pool for your needs.
#6 Create An Outdoor Kitchen
If you love to cook and entertain, then an outdoor kitchen is the perfect way to give purpose to your backyard. An outdoor kitchen can be as simple or as elaborate as you want it to be. For example, you can install a basic grill and prep station or go all out with a built-in BBQ, pizza oven, sink, and fridge.
An outdoor kitchen is a perfect addition to any backyard entertaining space. It allows you to move the party outdoors and enjoy the beautiful weather while still being able to prepare and conveniently serve food. Plus, it's a great way to show off your culinary skills to your guests!
No matter what you choose to do with your backyard, be sure to consider how you can use it to serve your needs and your family's needs. For example, adding a fire pit, pergola, swimming pool, or outdoor kitchen can turn an unused space into a functional and inviting backyard oasis. So get creative and have some fun with it!