After a long day of walking around New York City, visiting historical landmarks and museums, I feel it is a requirement to indulge in one of the many sweet treat spots.  Below are my family's favorite places.
SERENDIPITY: When they advertise "serious food", they are not kidding.  We had lunch there and G ordered a hot dog.  This photo will speak for itself.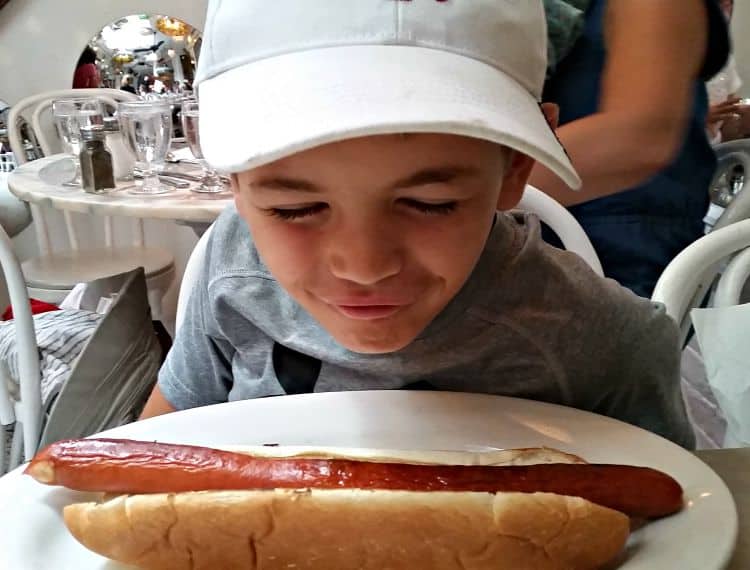 Serendipity is most famous for their Frrrozen Hot Chocolate – something not for the faint of heart and can definitely be shared!
DYLAN'S CANDY BAR: You can't go to the city without visiting Dylan's Candy Bar.  It is the candy mecca.  whatever type of candy you can think of right now, they have it, and then some.  Upstairs there is a restaurant with booths shaped as cupcakes, and a bar for some sweet adult-friendly beverages.  1011 Third Avenue and 60th Street 
BIG GAY ICE CREAM:  Want some amazing ice cream? You need to try the Salty Pimp – vanilla ice cream in a cone with  dulce de leche and sea salt – dipped in chocolate.  Nuff said?  125 E. 7th Street, 61 Grove Street

MAGNOLIA BAKERY: My sister introduced me to Magnolia years ago, and to this day I have not tasted a better cupcake.  My favorite is the devil's food cake with chocolate truffle filling.  YUM. 5 locations in NYC
DOUGHNUT PLANT: Sprinkled throughout the city,  Doughnut Plant offers such delectable flavors that it was hard to choose just one (or two).  My husband swooned over the creme brulee filled doughseed and my little guy surely loved his chocolate yeast doughnut (his face seemed to like it as well)!
INSOMNIA COOKIES: I'm not kidding when I say that you can get just about anything delivered in NYC – including some of the BEST cookies on the planet.  After yet another delicious meal, we ordered in the s'mores deluxe cookie, chocolate peanut butter cup and triple chocolate chunk cookies.  I was so sad that I couldn't indulge (stupid gluten) but lived vicariously through everyone else.  When doing my research, I stumbled upon the AWESOME fact that they are a franchise.  Unfortunately there isn't one super close to my house to deliver here but there may be one near you!
LADUREE: I had to put Laduree on this list.  I've visited a Laduree whenever there is one nearby.  So far I've enjoyed their macarons in Paris, Hong Kong, and now New York City!  G tried them for the first time and gave them "two thumbs up".  Aside from them being delicious, they are gluten-free! I tried their Strawberry Candy flavor and it was so flavorful.  I'm dreaming about it now. 398 West Broadway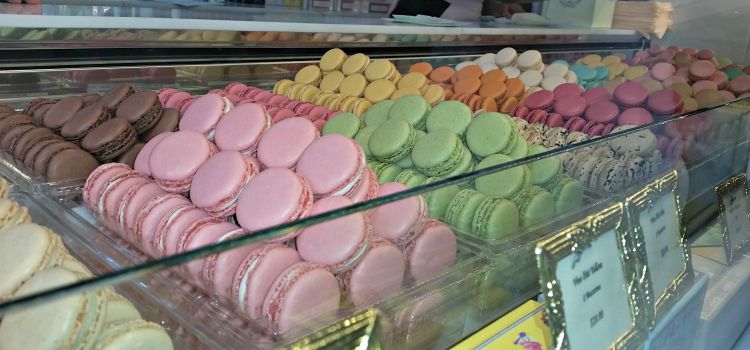 DOMINIQUE ANSEL:  Ever hear of a cronut?  When they first came about, they were all over the news and the lines to get even just one cronut was around the corner and down the block.  A cronut is half doughnut and half croissant.  It is delicious and worth the wait.  Visit the bakery at 3 pm and enjoy their cookie shots, which is a cup made out of a chocolate chip cookie filled with cold milk.  I want one now! 189 Spring Street.
What sweet treat is your favorite?