I didn't realize that 19 Stitch Fix boxes have graced my front door until I received my latest fix.  When I looked at the line-item sheet, the text "#20" really stood out.  Not in a bad way, but a "whoa" way.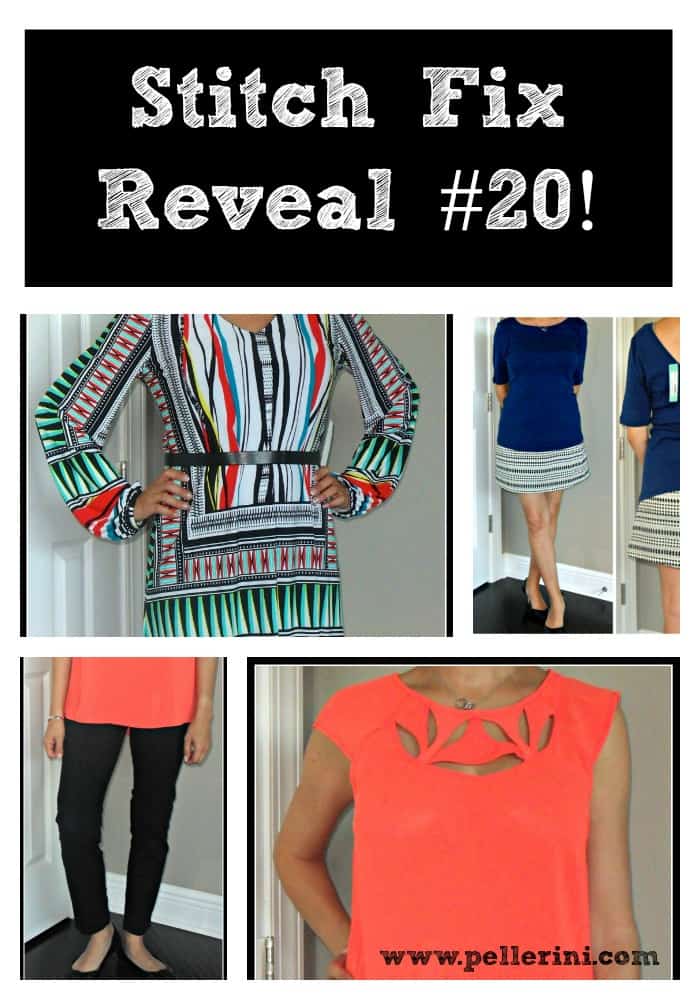 I love the experience (as you can tell by the number of times mentioned above) – opening the box with all contents being a surprise for me!  It's like Christmas every time!  This Fix was no different.
I requested clothing that I could wear for an upcoming trip where I would be going to some trade shows, but also sightseeing and shmoozing a bit.  My stylist, Patrice, didn't let me down.
The first thing I do when I open the box is go straight to the letter from Patrice.  I like to read what she was thinking when she picked out the pieces for me.  It was so personalized and thoughtful.
On to the clothing!  First up is the Therese shift dress by Cleokai.  I loved, loved, loved the print, and considering I am not usually a loud-print-kind-of-girl, that is a compliment!  I tried it on as-is and thought it was a bit too flowy for me so I belted it and liked it better.  Patrice recommended rolling the sleeves up a bit if they were too long (which they were) to give it a 3/4 sleeve look.  I paired the dress with my Steve Madden chunky heel peep toe shoes.
Next up is the Eighty Six Azaria textured mini skirt, which Patrice recommended I pair with the Market & Spruce Gwendolen v-back knit shirt.  I think it looks really cute!  I didn't realize that the exposed zipper on the skirt was supposed to go off center in the front (I realized afterward when I was looking over the outfit cards a bit more closely).  I really like the skirt…the shirt is OK.  I paired this outfit with my Sam Edelman kitten heels.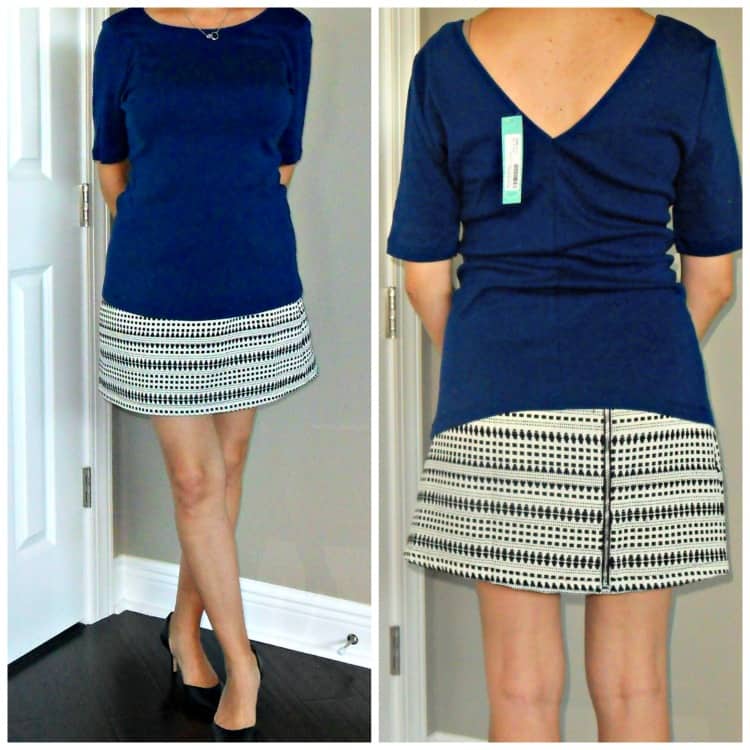 I also wanted to see the skirt with the Skies are Blue Moraga cut out detail blouse…when I first opened the box, I pictured these two together off the bat.  They looked cute together!  The blouse fit very well.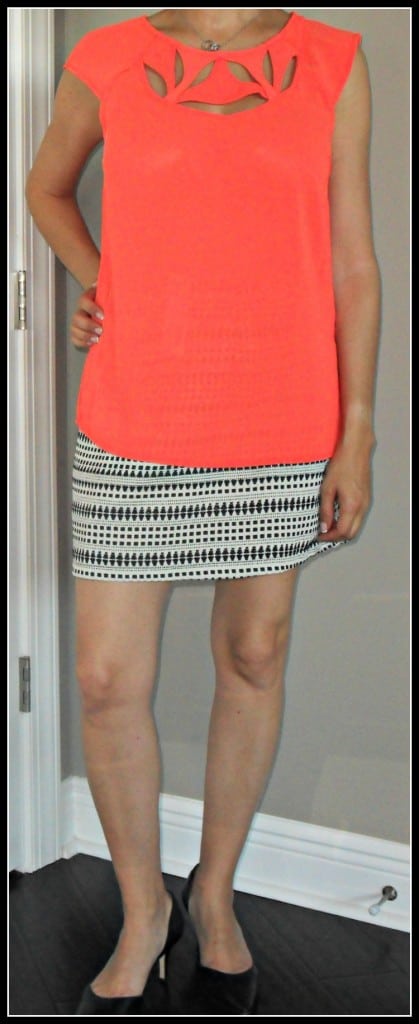 Patrice paired the blouse with the Just Black Banks skinny jean (BTW, it is labeled as made for Stitch Fix – nice collaboration!).  The blouse with the skinnies looked adorable and was super comfy too.  I paired that with my Tory Burch Reva flats.
I think this fix was a great success!  I liked how in this situation, Patrice created outfits for me.  It was a no-brainer as to what I could pair with the pieces because they were in the box!
Have you ever tried Stitch Fix?  I recommend trying it at least once (or 20 times like me LOL).  All you do is fill out a style questionnaire and they get to work finding your next favorite pieces of clothing.  Please remember to be very specific as it helps the stylists really hone in on your taste and reduces any frustration on your end when you receive the fix.  Click HERE to start!
Which piece(s) do you like best?
Check out some of my other reveals!
Stitch Fix Reveal  (04/12) // Stitch Fix Reveal  (08/12) // Stitch Fix Reveal (11/12) // Stitch Fix Reveal (04/13) // Stitch Fix Reveal  (05/13) // Stitch Fix Reveal (08/13)