*I received Prestige cosmetics in return for a review on Pellerini Proclaims.  All opinions are 100% my own!
I was like a little kid in a candy store when I received my package from Prestige cosmetics. I'm pretty conservative (translated as "lazy" in my case) when I apply makeup every morning.  My staple items are eyeliner, mascara, a swoop of eye shadow, bronzer and a simple nude-ish lip. I am a huge makeup fan, but seldom go "outside the box" when it comes to cosmetic trends, so when I opened the box I was so excited to get to work and try out each and every product!
I decided that today was the day that I am going to turn over a new leaf, try some different techniques, maybe add a bit of unexpected color to my palate.  Then I decided, let me try these new products out and use them as if I would my usual makeup and put them to the true test.
I didn't a bit of due diligence on Prestige and was very happy with what I uncovered.  Please check each item to confirm, but a lot of the products I review below are dermatologically tested to be free of:
Gluten and Gluten Derivatives
GMOs (Genetically Modified Organisms)
Parabens
Formaldehyde Synthetic Fragrance
Phthalates
Here's the line up!
I always felt that if there was one product to use if I was in a total rush, it would be mascara.  There's something about mascara that opens up your eyes a bit (translation: makes you look a bit more awake).  Prestige's my Blackest lashes Black Volume Mascara went on nicely – no clumps and is super black – my favorite!  Priced at only $7.50 this is a great option should you be looking for a new mascara to try!
Another must-have in your makeup bag is eyeliner.  I typically use Bobbi Brown or Stila, in either a dark, dark brown or black so I was looking forward to trying the True Khol Kajal eyeliner.  It went on super smooth and lasted practically the whole day, which made me super happy.  I hate having to reapply throughout the day.  I haven't tried the emerald green eyeliner pictured above just yet, but I look forward to this week!
This Total Intensity eyeshadow trio in Mirage is right up my alley.  I covered from my lash line to my brow in the lightest color, brushed the light brown color over my lid and took a crease brush and blended the dark chocolate color in my crease and a smidge on the outer corner of my eyes.  The color is rich and pretty long lasting!
Prestige's Total Intensity eyeshadow in Bewitched fits the bill for a smokey, evening look. It has a bit of shimmer, went on smooth and didn't crease – all things I look for in a shadow.

So easy to use and apply, the Colossal Ink Pen is now a favorite of mine!  I'm usually wary of ink or pen-like eyeliners because I am NOT good with them – I end up with the oddest lined eyes LOL.  I had no problem with this pen and liked that I can choose between a nice, thin line or a thicker line.

I never knew anything like this existed!  How great is this for people, such as myself, who may have a shaky hand or "overdo it a bit"?  LOVE! The Makeup Eraser Pen is awesome!  It doesn't contain alcohol, so it does not leave the area that you "fixed" all dry looking.

I've saved my most favorite for last…Prestige Total Intensity Total Wear Lip Crayon in Bare it All is the BEST!  I'm a fan of lip crayons and between the creamy-ness and the color, I love it!  It's just enough color for me and lasts.
Overall I was very pleased with the makeup.  I'm going to break out of my shell and try the emerald eyeliner, hopefully this weekend.  Here are some "after" pics with the new products.  I did realize via this review that I need to up my game when it comes to photography (especially selfies!).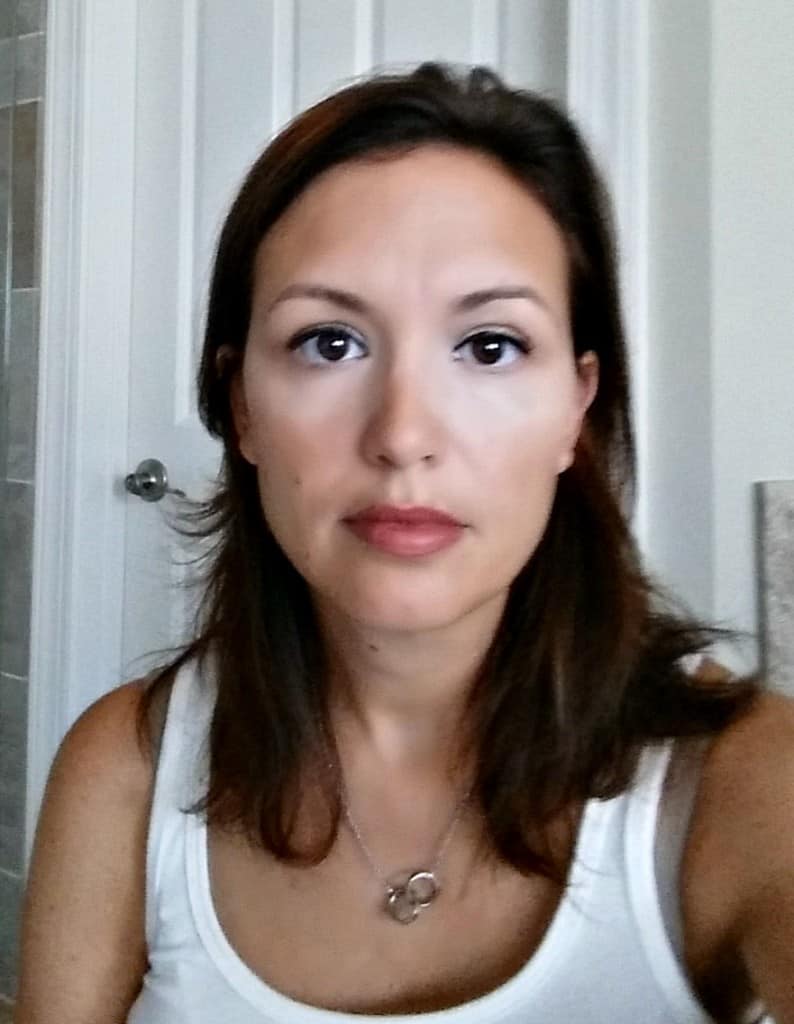 …and with glasses
What do you think? Check out all of Prestige's lines by visiting their website.  Which product do you think you'd try?