I didn't get into jewelry much until I became a stylist with Stella & Dot.  Then it became an obsession – as with everything else – my bags, shoes, clothing – hee hee. I currently have a really pretty jewelry armoire in my room – it looks great BUT it isn't functional for me.  There aren't enough compartments for my earrings and rings, and the necklaces are bunched in the side sections.  I forget what I have because the pieces aren't visible.
Last week I posted an article with some cool tips for organization around the house.  They showed using ice cube trays
 for earring organization…I had to try it and it worked rather well!
I started out with all of my stud earrings (you can also fit small hoop earrings in the compartments as well) and ice cube trays.
Then I just put each pair in an ice cube compartment.  You can also put like pairs together – if you have a few different ball-shaped studs you can place them in one compartment.  Here is the final project:
Put all loose earring backs in one compartment too…I always seem to find some lonely ones hanging around and now I know where to store them so that I will find them next time.  Rings would also store nicely in these little trays.  I'm going to tuck them away into my nightstand
I haven't done anything with my necklaces YET.  But this is what I am working with: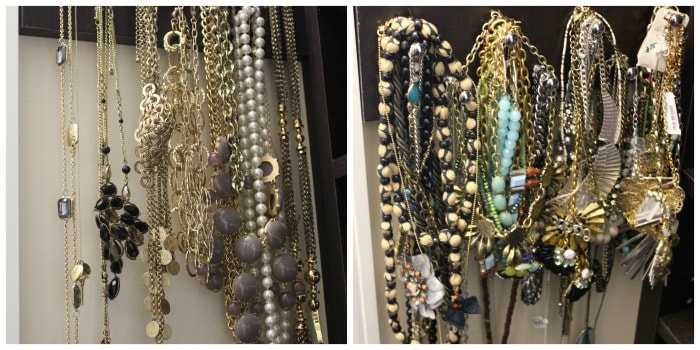 ACKKKKK!!! I can't believe I am even showing you these pictures – how embarrassing!!! This is by far the next project I am up against…stay tuned!