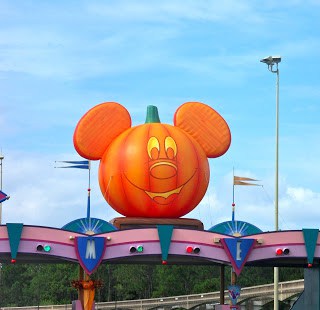 We're at Mickey's Not So Scary Halloween party.  We've already been on the Buzz Lightyear ride and the Tomorrowland Speedway (I only lasted one lap with G steering.  If there was no rail underneath keeping us on the track, it would have been tragic!).
When it was our turn on line to take a picture with THE Buzz Lightyear, the boys were star struck. It was the cutest thing.   N took a little tumble as we were leaving the picture area, and who was there to help him up and give him a hug – Buzz himself!  What a hero!  🙂
After an uneventful dinner and bathroom break #2, N and I rode solo on the Pooh ride.  G isn't into the rides as much as N for some reason.
Next was the Dumbo ride, Cinderella's carousel, Snow White (which was a bit scary). Peter Pan and Pirates of the Caribbean followed.   Along the way, we collected candy (great candy at that!).
Time to change into costumes – well pajamas.  G was Buzz (of course) and N was Woody.  On to even more fun!   The Boo To You parade was soooooo cool!  Especially since this was the first parade Nathan stayed up for!!
On the way out, I had to stop at the Confectionery and get the boys some chocolate covered pretzels. The cast members that worked there are great. They totally pretended that N and G were the actual characters that they were portraying – even down to asking them for autographs and everything!  N signed his "name" – Wooy (hey, it was 9 o'clock already.  I can't knock him for misspellings). The boys even got marshmallows on a stick.
We're on our way back to the hotel, which within itself ranks as exciting to the boys as monorail rides and the park itself.